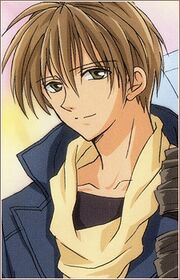 Keiichi Wakaouji (若王子 圭一 Wakaōji Keiichi) is a fictional character in the series Full Moon O Sagshite. He is known to be Mitsuki's doctor, and a former band member of Route::L.
. At the start of the series he has given up music, but he later returns to the music
business
in order to find the missing Mitsuki, and becomes Fullmoon's producer.